Regular price
£33.00
Sale price
£19.99
Unit price
per
SALE
SOLD OUT
FINAL CLEARANCE - UP TO 80% OFF!
IMPORTANT: Product expiry is 12/2023 
From 10 - 36 months
• 100% plant-based • certified organic • no dairy or soy
• Suitable for vegetarian & vegans
Bébé M Stage 3 is made with pre-cooked cereals and naturally enriched with lactic ferments, to provide an all-in-one solution for your little one's weaning phase.
ADFIAG certified gluten-free. It meets European Regulation (EC) 2006/125 and (EC) 609/2013. For infants who have reached the age of 10 months, as part of a mixed food diet.  
FREE Standard delivery on orders over £35 or £2.99 (2-4 working days)
UK Next-Day: £4.99 (1-2 working days) order by 11am or FREE when you spend over £60!
Ingredients

corn maltodextrin* (EU origin), pre-cooked gluten-free cereals* (25%) (rice*, millet*, buckwheat*), vegetable oils* (rapeseed*, coconut extract*, sweet almond*, sunflower*), rice proteins* hydrolysed 11.5%, marine algae: lithothamne (L. calcareum), spirulina*, acerola powder*, lactic ferments: Bifidobacterium lactis, essential amino acids: L-Lysine, L-Threonine, L -Isoleucine, L-Histidine, L-Tryptophan, L-Leucine, L-Tyrosine, vitamin A, vitamin B1, vitamin D3.


*certified organic. *DHA included as per law. Allergens in bold.
Note: allergens of almonds are removed during the process, so is suitable for babies with almond allergies.
Feeding

Baby's age: over 10 months

2 scoops in 240ml water

Number of bottles per 24 hours: 2
Preparation

Step 1:

Wash hands and sterilise all utensils. Boil fresh tap water. Leave to cool for no longer than 30 minutes. Add the amount of required water (see feeding guide) into the sterilised bottle.

Step 2:

Using the scoop provided, add the correct number of scoops of powder (see feeding guide). Always level off each scoop with the back of a clean dry knife. 

Step 3:

Place the sterilised teat and cap on the bottle and shake well in circles then vertically until the powder is fully dissolved. 

Step 4:

Cool bottle under cold running water until lukewarm (approx. 37°C), do not immerse the teat. Test the temperature by pouring a few drops onto the inside of your wrist. Feed immediately
Nutrition

per 100ml:

• Energy: 272 kJ | 65 Kcal

• Fat: 3g

of which saturates: 0.84g
of which a-linolenic acid (ALA)*: 105mg
of which linolenic acid (LA): 525mg
LA/ALA ratio: 5

• Carbohydrates: 7.75g

of which sugars: 0.35g

• Fibre: 0.2g

• Protein: 1.95g

Vitamins:

Vitamin A 72μg, Vitamin D 1.39μg, Vitamin E 0.48mg, Vitamin C 12.2mg, Thiamin (B1) 0.29mg, Riboflavin (B2) 0.0mg, Niacin (B3) 0.09mg, Vitamin (B12) 0.18μg, Vitamin (B6) 0.02mg, Folate 0.15μg, Pantothenic Acid (B5)0.03mg, Biotin 0.04μg.

Minerals:

Sodium 20.17 mg, Potassium 22.15mg, Calcium 106mg, Phosphorous 8mg, Magnesium 14.50mg, Iron 0.94mg, Zinc 0.16mg, Copper 0.012mg, Iodine 0.01μg.

*Long-chain polyunsaturated fatty acids
Important Notice

Breastfeeding is best for babies. It is important to eat a healthy, balanced diet if you do choose to breastfeed. Infant formula is suitable from birth when babies are not breastfed and should only be used on the advice of a doctor, midwife, health visitor, public health nurse, dietitian, pharmacist or other qualified healthcare professionals. Combined breast and bottle feeding the first weeks of life may reduce the supply of your own breast milk and reversing the decision not to breastfeed is difficult. The social and financial implications of using infant formula should be considered. Please ensure you follow the manufacturer's preparation instructions carefully. Improper use of an infant formula or inappropriate foods or feeding methods may present a health hazard. When bottle feeding, do not allow prolonged or frequent contact of formula feeds with your baby's teeth, as this increases the risk of tooth decay. Ask your health professional or dentist for advice. Make sure your baby's teeth are cleaned after the last feed at night. Always hold your baby while feeding. Do not leave baby unattended as they might choke.
View full details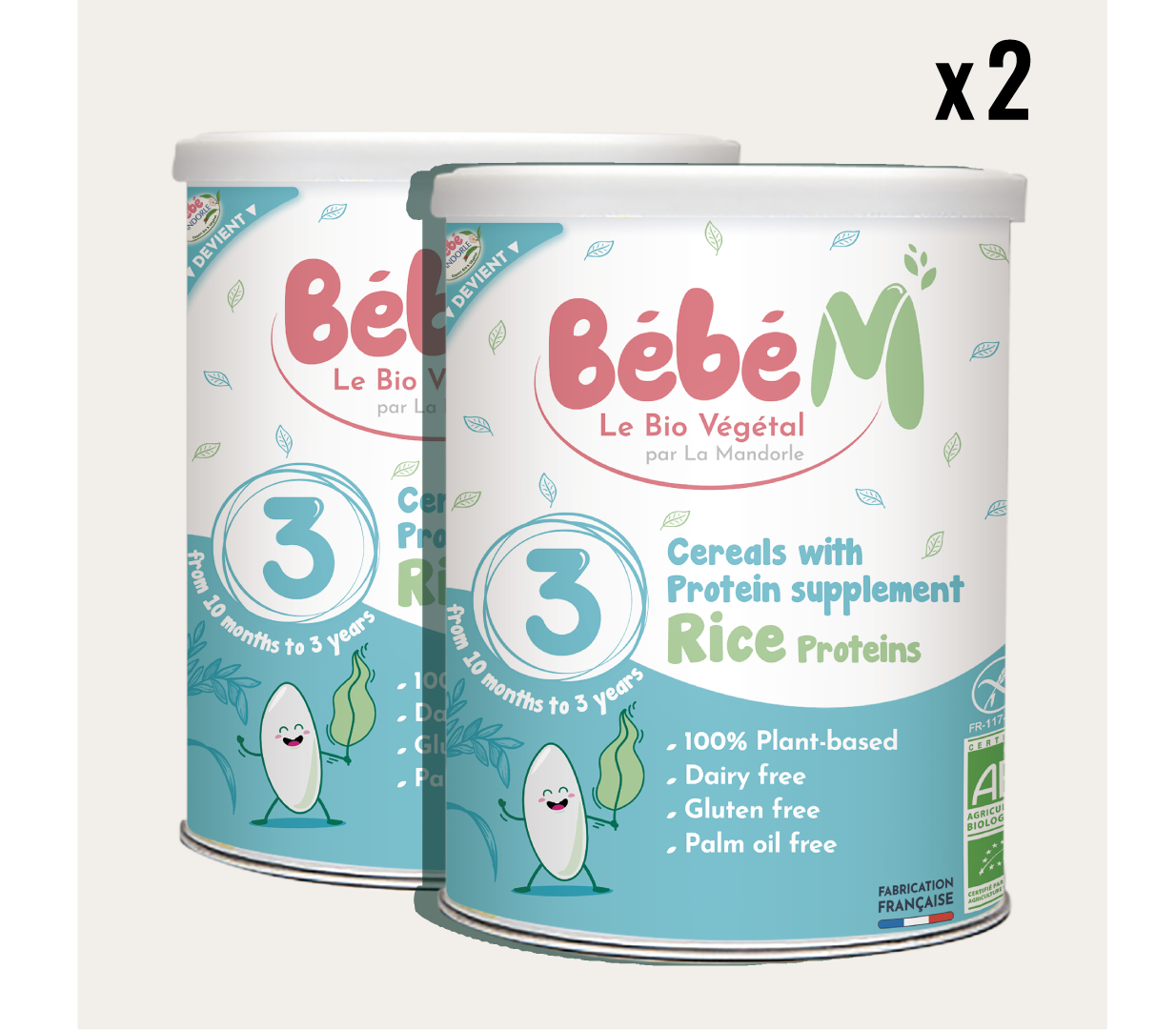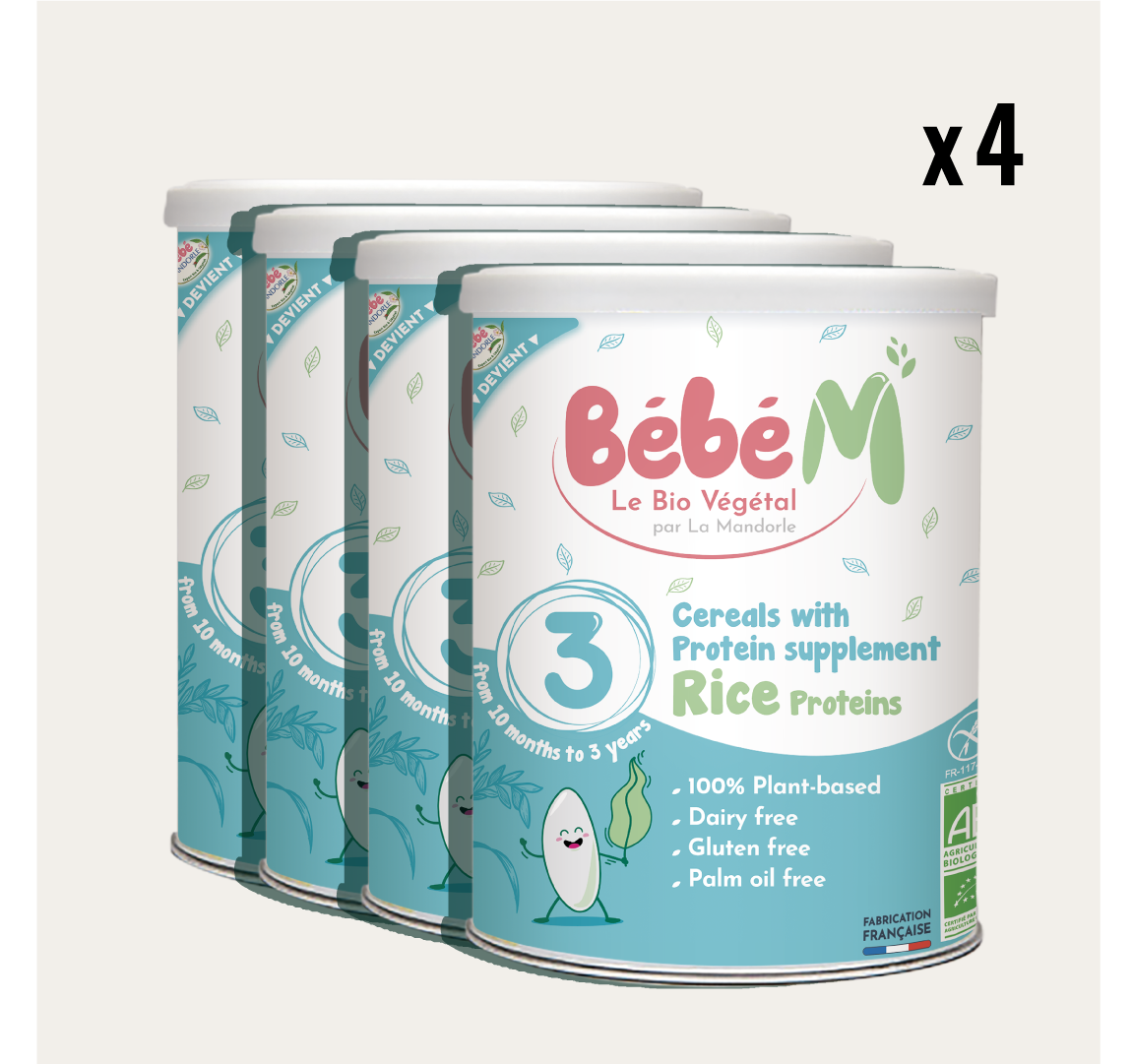 Expertly formulated with
cold-pressed virgin oils

naturally high in omega-6 and -3 fatty acids, (matching those found in breast milk) giving your little one vital nutrients

sea algae & lichen

the vegan and sustainable source for Vitamin D, DHA and Omega-3 (where fish also get it from!)

acerola & probiotics

promotes a balance of healthy bacteria in tiny tums, helping with colic caused by acid reflux
FAQs
Is the formula nutritionally complete?

Yes, the Bébé M range is nutritionally complete and complies to European Commission Regulation (EC) 2006/125 and (EC) 609/2013. These regulations lay out the correct nutritional levels for baby food and infant formulas.
Does it contain contaminants?

Bébé M products fully comply with the strict European Commission Regulation, concerning contaminants (including arsenic) present in baby food and infant formulas.
These regulations are (EC) 2015/1006 and (EC) 1881/2006 which set the maximum levels of contaminants.

Strict control measures are taken when sourcing and processing raw materials. This is to guarantee the safety and compliance of products with current regulations. Bébé M also tests each batch of finished products for contaminants, only after which the conformed products are made available.
Why does it cost more than other formulas?

Nutrition, sustainability and ethics are at the core of Bébé M's creations rather than profitability.

Bébé M uses certified organic, premium-quality, and fair-trade ingredients. These are to serve the needs of infants and protect our environment. The ingredients are uniquely sourced for complete nutrition whilst being 100% plant-based. Such as Lichen (vitamin D) from Iceland and DHA (Omega-3 fatty acids) from marine sea algae, unlike cheaper alternatives like palm-oil.

Producing 1 tonne of organic rice protein hydrolysates, requires more than 10 tonnes of whole grain organic rice. These are then processed and hydrolysed for over three weeks. Before and after each production, raw materials are approved under strict tests to ensure they are organic, allergen-free, and nutritionally fit for infants. Only then are products made available.

To help keep costs low for our customers, we currently offer free delivery on the Bébé M formula!
IMPORTANT, PLEASE READ: taste and consistency of the formula

When making the feed for the first time, you may notice differences when compared to routine cow milk formulas and breast milk. This is due to the special formulation which is common among all hydrolysed formulas. The hydrolysis process involves breaking down proteins into small pieces. You may find the prepared formula has a bitter taste and small bits i.e. residue. These are all completely normal and safe aspects of the formula.

As with any changes to feeding your baby, it may take some time for them to fully adapt to the formula, the majority do within a few days, however every baby is different and it may take some persistence.

Please see some of our suggestions below:• When using the formula for the first time, try to make sure your baby is hungry and thirsty
• Babies tend to pick up on your reactions and facial expressions - try to stay positive during feeding times
• If lumps form when making the formula,add the powder before adding water at 40°Cfor better solubility
• Older babies may prefer to take the formula from a covered cup
• Due to the thicker consistency,feeding bottles with a variable teat are bestto allow for a better flow of the formula
5
My daughter loves this milk. Weaned her from breast to thia at 14 months without too much difficulty and is so nice to have a healthy alternative to cows and Soya 😊
Def recommend
My son loves Bebe M. We moved him onto 2 when I stopped breastfeeding and now he has one bottle of 3 before bed. The team at Jadon are amazing and the service is A1. We have found ourselves in a couple of tricky situations where we've left ordering to the last minute and they really came through for us. 10/10 Definitely recommend.
Fantastic Stuff
I initially tried this when my baby was weaning off breastmilk, and at first he didn't like the taste (with water as per instructions) so then I mixed it with other plant milks and that did the trick. It doesn't combine that quickly but after some shaking it's good enough for my toddler to drink. So pleased to have found a vegan formula filled with goodness for my little one.
Good quality
Baby loves vegan baby formula best one
Plant base formula
You are the angel of vegan babies/ toddler!! It is fantastic to have vegan formula, but the product has to mix it with plant based milk otherwise will taste a bit of bitter if it using water to mix it . The powder is Quick and easy to mix . So far it's positive, I will keep order it .
Best formula
It's been such wonderful relief knowing I can feed my baba without worrying it's going to have a negative impact. Thanks to Jadon for stocking such wonderful products and your great customer service and even went the milestone of stocking the number 3 base on request you are truly what customer service such be and affordable price and reliable delivery. All the best for the new year 🙏🏾